Posted By ipdesign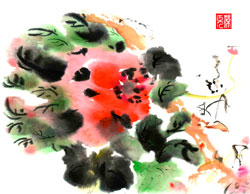 Artist Statement
From the grinding of the ink, softening the brushes, and visualizing the structure of a painting, I gradually enter a spiritual world where natural harmony and balance are embraced. The sense of peacefulness and calm created by the flow of the brushstrokes enable me to enter the scene that I am depicting on the paper as if I were truly within the painting and at one with nature.
I hope that this collection of paintings will give you a similar sense of joy, inspiration, and peace.
– Jack B. Kushnick
About the Artist
Jack B. Kushnick is enchanted by both Chinese brush art and watercolor.  His artwork blends the best of both worlds; the beauty and peacefulness of Chinese brush art with the free-flowing, colorful nature of watercolor. Jack has studied under several master artists, both Asian and American, for more than a decade. Read More
About the Artwork
My artwork consists of collections of both watercolor paintings and Chinese brush art.
Many of my original paintings are available for sale both in watercolor and Chinese brush art styles.  Some of the original Asian works have been mounted and framed in galleries in Chinatown, New York City, using an approach which differs from that typically used for Western-style paintings. They are wet-mounted with silk brocade and framed in either mahogany-colored wood or black wood.  Read More